Agrointelli raises an €14,5 million investment to help drive the future of agricultural robotics
Agrointelli investment
Based in Denmark, the agricultural robotics company Agro Intelligence ApS (Agrointelli) has raised DKK 108 million (EUR 14.5 million) in debt and equity. The equity investment round, which was co-led by Nordic Alpha Partners and Vaekstfonden, will be used to scale production and accelerate the company's international growth plans. Furthermore, it is Vaekstfonden's first direct investment under The Danish Green Future Fund. The ambition is to help propel the agricultural sector towards a more sustainable future while helping farms increase output and efficiency.
CEO and founder Ole Green, who comes from a family of farmers, is one of the most prominent practitioners of agri-robotics and precision farming technology in Denmark:
This investment from Vaekstfonden and Nordic Alpha Partners will enable us to produce and distribute of our robotic agricultural platform at scale, making it possible for us to capitalize on the growing international interest in our products and services. We have seen in the field the concrete environmental and economic benefits our robotic platform produces for farmers and are extremely excited to have the opportunity now to bring Robotti to farmers across the globe, says Ole Green
While most agricultural robots are dedicated to a single function or require the farmer to exclusively commit to closed systems, Agrointelli combines artificial intelligence, machine vision and robotics into a flexible platform solution that is built from the ground up to answer the core needs and challenges of many farm owners – while helping them improve their environmental footprint. The company's lightweight Robotti autonomous tool carrier attach to and control implements and equipment already owned and understood by the farmer, who can use Robotti for activities such as tillage, seeding, weeding and precision spraying.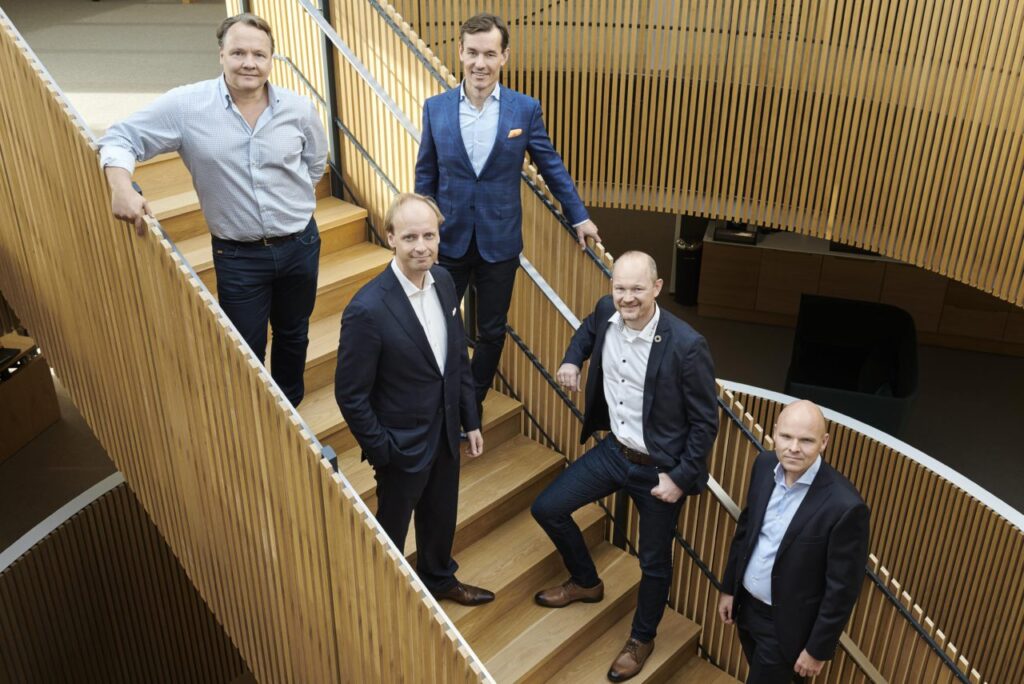 Nordic Alpha Partners
Nordic Alpha Partners is a hard-tech growth fund founded in 2017 with DKK 945 million under management. NAP fund typically invests in established hard-tech companies with DKK 20-150 mil. in turnover showcasing a potential to drive larger global transformations by either utilizing or developing Industry 4.0 technologies. Nordic Alpha Partners works with its investments in a more operational manner compared to what is usually the case among European venture and growth funds. For instance, by drawing upon the in-house developed 'Value Creation Model' (VCM).
At Nordic Alpha Partners, we are very satisfied with the investment in Agrointelli. The company is a fantastic representative of how automation and digitization of an industry can increase its production output, while significantly reducing the CO2 footprint. In addition, the investment is a good example of how Nordic Alpha Partners' Value Creation Model can take Danish industrial technology globally in syndication with Vaekstfonden – and we look forward to continued close cooperation, states Jakob Fuhr Hansen, Investment Partner in Nordic Alpha Partners.

Vaekstfonden
Vaekstfonden is the Danish State's investment fund, established in order to strengthen the access to for Danish companies ensuring creation of innovation, growth and jobs. In close collaboration with banks and domestic and international private investors, Vaekstfonden funds companies in all sectors across Denmark and at all stages, from start-up through growth and then expansion towards global markets. The fund can enter at any stage of a company cycle, from the frail beginnings, through sharp growth and on its journey towards global markets and eventually an IPO. Since 1992, Vaekstfonden has funded over 9,200 companies with investments amounting to more than DKK 33 billion.
Agrointelli clearly represents the kind of company that will ensure and enhance Denmark's continued global position as an agricultural country and food producer. This is one of our biggest export areas and one where we must keep innovating and growing – and that is exactly what Agrointelli is doing. They have created a cutting-edge solution able to make a huge difference for global agriculture, which faces future challenges in terms of providing food for an increasing global population while staying within the boundaries of our natural resources. – So I am very pleased that Agrointelli is also the first direct investment under The Danish Green Future Fund, says Rolf Kjaergaard, CEO at Vaekstfonden.

Danish Green Future Fund
The Danish Green Future Fund has a total capacity of DKK 25bn that is divided into four different funds; EKF (the Danish Export Credit Fund), IFU (the Investment Fund for Developing Countries), the Danish Green investment Fund and Vaekstfonden. Vaekstfonden and the Danish Green Investment Fund have been strengthened by a total of DKK 10bn.
Innovation in their DNA
Agrointelli was founded in 2015. Originally, the company pursued various innovation projects and has won several prices for its achievements. In 2016, Agrointelli won more than 20 "Innovation Stars" spread across nine different innovations at the renowned Danish fair for agriculture, Agromek. One of them included Robotti which was awarded "Innovation of the year". All innovations have been developed in close collaboration with top tier international research teams working with automation and sensor technology within the field of plant production. Among others are Wageningen University in the Netherlands, Ghent University in Belgium, NIBIO from Norway, Copenhagen University, The Technical University of Denmark and Aarhus University.
Chairman of the Board Peter Bager adds: Agrointelli is currently undergoing a large transition from an engineering house to becoming an international front figure within future sustainable plant production. We welcome Vaekstfonden and Nordic Alpha Partners as investors, and I would like to also take this moment to express our gratitude to our existing investors for their trust and continued support over the past five years. Each one of them will continue this journey with us and I look forward to the work ahead of us.