AGROINTELLI delivers UK's first robotic implement-carrier to farmer
We are delighted to announce, that Agrointelli have delivered the first Robotti to the UK. The organic fresh produce farm, Home Farm Nacton, has taken delivery of a Robotti 150D, the first robotic implement-carrier in the UK, which is now fully operational on the estate.
The investment was made to improve technology and solve the challenge of sourcing seasonal labour.
A large amount of our produce is organic, so we are increasingly limited in how we can control weeds. Chemical application is repetitive work, as is manual weeding, and sourcing seasonal, overseas labour is becoming increasingly difficult. We wanted to future- proof the farm and Robotti is perfectly suited to our set-up, explains Andrew Williams, farm director at Home Farm Nacton.
Producing both organic and conventional vegetables, including leeks, brassicas, onions, red beet, potatoes, fodder beet, and sugar beet, as well as cereals, across 1170ha, Home Farm Nacton was looking for ways to adopt more technology into the business, and the Robotti 150D ticked all of the boxes.
The Robotti 150D has now been in operation on the farm since mid-April, weeding a number of vegetable crops using a harrow attachment
It can be in operation 24 hours a day, so there is a long window of opportunity for it to make a difference in the crucial weeding stages of the crops, fitting well into our cropping plan. It does exactly what we need, moving soil in the early stage of growth with guaranteed precision, says Andrew Williams.
Investment through Fram Farmers
Home Farm Nacton heard about Robotti through their Fram Farmers membership. Gordon Cummings, machinery manager of Fram Farmers set the relationship up with Home Farm Nacton and Agrointelli.
The demand for autonomous tractors has been around a long time, and we're delighted to have been involved in bringing this to the UK for Andrew and the team at Home Farm Nacton, adds Gordon Cummings from Fram Farmers.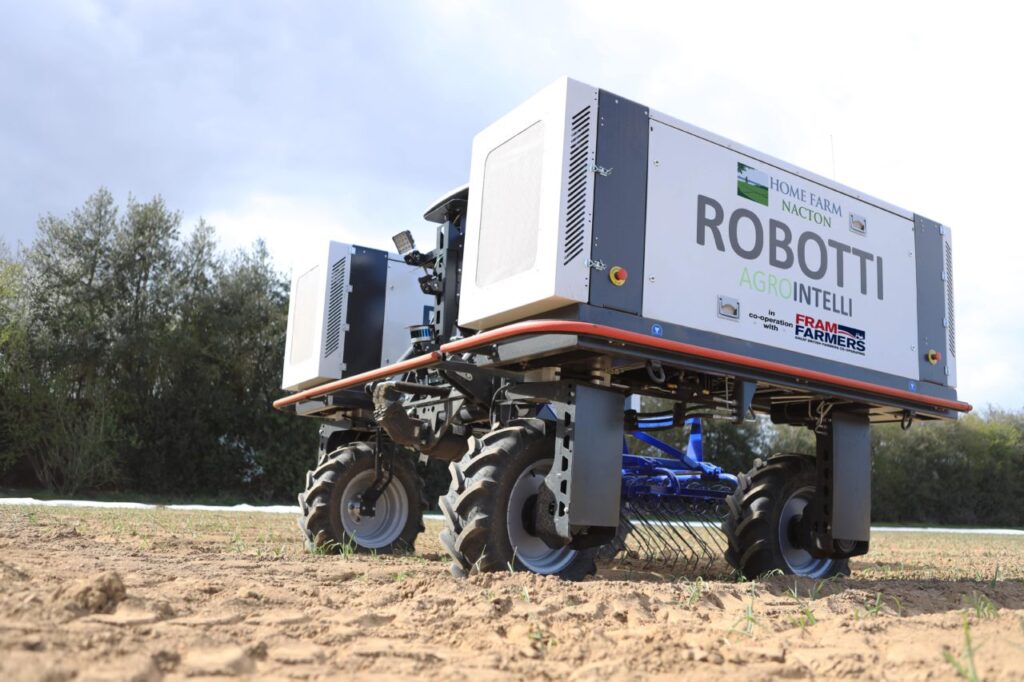 We are happy to announce our collaboration with Fram Farmers through the delivery of our Robotti 150D to Home Farm Nacton. It is a huge milestone for us to penetrate such an important market as the UK. We are looking forward to see, what the future brings, explains Jakob Bebe, CCO at Agrointelli
About Fram Farmers:
Fram Farmers is the UK's leading farmer-owned inputs purchasing and crop marketing business, providing the purchasing, grain marketing and administrative function for over 1400 farming businesses across the UK.
The cooperative acts as an extension to the farm office, with industry professionals purchasing and marketing core agricultural inputs and outputs on behalf of farmer members.