A new distributor of ROBOTTI in Italy
AGROINTELLI just signed one more contract with a national distributor of Trimble. This time it is Spektra Agri – Vantage Italia, the Italian leading company for precision farming.
Spektra Agri – Vantage Italia

Spektra Agri was established in 2003. Five years ago, the name changed to "Spektra Agri – Vantage Italia", adding the name given to all dealers of Trimble. The company is operating within precision agriculture, providing suitable technological solutions to overcome the challenges within the entire agricultural supply chain. As they say – "precision farming is the only way to save the planet and one of the most important ways to convert agriculture to be more environmentally sustainable" – and this is one of their drives to be best in what they do.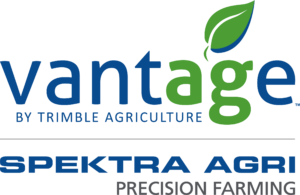 The company covers all aspects of precision agriculture – from the hardware to the software and consultancy. This also includes services like scouting or correction – RTK, RTX. They cover all of Italy and provide their precision solutions to all kinds of farms – from large vegetable farmers to vineyards and more. In addition to Trimble, they are distributors of brands like: Müller Elektronik, Precision Planting and Wintex Agro. They also have an agreement with the most important agricultural consulting company in Italy, iBF Servizi, to provide agronomic consultancy to their customers.
Italian agriculture and ROBOTTI

According to Spektra Agri – Vantage Italia, the main problem that the farmers face in Italy today is lack of workforce in agriculture – e.g. tractor drivers, operators. Italy grows hundreds of different crops – the most common ones – like wheat, maize and soybeans, but also many specialized crops – grapes, vegetables a.o., that can benefit from automation. The structure of Italian fields is also a good fit for autonomous robots, starting from the big fields, difficult to cover. Population growth also creates an increasing need for intensive farming, increasing yields – and here precision technologies play an important part.
We believe that automation is the future and we want to make a step ahead also in our development. We want to take this big and important step for the Italian agriculture. We think that with ROBOTTI we really can make a difference – in terms of business but also in terms of new ways of farming. As we are the leading precision company in Italy, we want to take our customers to the next level, we want them to have success with this product."– says Matteo Antonello, Sales and Marketing Manager of Spektra Agri – Vantage Italia.
Spektra Agri – Vantage Italia considered other robots, all of which were electric. The company has expressed doubts about the reliability of electric engines in the agricultural context and the problem of farmers accepting such a big change. However, with ROBOTTI they found a bridge between old and new farming. ROBOTTI offers what is known to the famer – diesel engine, three-point hitch, PTO, and traditional implements. And this is easier for farmers to accept.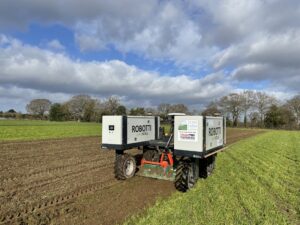 Perfect customer profile for ROBOTTI

Spektra Agri – Vantage Italia sees the most advanced farms as the first customers for ROBOTTI in Italy. These farmers have been using Trimble technology already for years and they use it as much as they can.
I have in mind many farms using Trimble equipment to 100% of its capabilities. These farmers are mentally ready to change and revolutionize their way of farming. So as a perfect customer profile I see big farms really committed to reduce their costs and use the technology at the top level. They are producers of vegetables and other high value crops. To start with, these are the targets, and with time we expect that range to broaden. We are about to supply the first ROBOTTI to an important vegetables farm, producing onions and basil. We expect large growth in the next three years.
Want to know more about ROBOTTI? Don't hesitate to contact AGROINTELLI or if you live in Italy –
Spektra Agri – Vantage Italia: Ufficio stampa Spektra Agri | Vantage Italia,
Giorgia Inviso: (+39 3317573082; Giorgia.inviso@spektra.it),
Matteo Antonello: (+39 3357755915; matteo.antonello@vantage-italia.it).